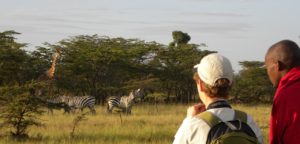 Kenya Wildlife Conservation Expedition
June 25-July 8, 2023
Enjoy the great African outdoors on foot and on 2.5 days of vehicle safari.
Have a wonderful 14-day adventure in Kenya.  Help sustain Maasai eco-camps  and wildlife conservation. Join Dr. Dusti Becker and Maasai Moran Conservation and Walking Safaris on a valiant effort to preserve Maasai culture, native Kenyan grasslands and forests, and African wildlife, especially Maasai giraffes.
Help save baby giraffes and their nursery habitats! 
Collect data on Maasai giraffe group composition and locations of giraffe nurseries. Take photographs for ID-ing giraffes, part of a long-term study.
Visit Nyakweri Forest.
Learn about elephants and other wildlife that depend on the forest for birthing and hiding young. Enjoy birding the easternmost part of the Congo tropical forest.
Are there any special qualifications?
Enthusiasm for wildlife, respect for other cultures, good general health and fitness, and a flexible, open attitude are required. Experience with wildlife monitoring, birding, environmental education, small business management, marketing, and ecotourism are desirable.
What does it cost?
Participants donate $3250 to Life Net Nature. The cost-share donation covers all field expenses during the Kenya Wildlife Conservation Expedition.  The donation also provides scholarships for kids from families who protect giraffe nurseries, project trainees, and helps to support local Maasai conservation groups.
Once our team leaves Nairobi, the cost-share donation covers all meals, drivers and transportation, camping & park fees, Maasai hosting and guides, and 2 full-day safaris: one through the Masai Mara National Reserve and one in the Mara Triangle Reserve.
Where does the expedition start and end?
We meet in Nairobi at Wildebeest Camp. Participants are responsible for their own travel to and from Nairobi and for all lodging and meals in Nairobi. Dr. Dusti Becker will meet the group on June 24, 2023, the night before team's departure from Nairobi.  The group will also return to Wildebeest Camp at the end of the expedition by dinner time.
How to Apply.
Email Dr. Dusti Becker (dustibecker@lifenetnature.org) with a short cover letter explaining your interest and skills (resume is optional). She will send you an application form. If you are invited to join a team, a deposit of $450 secures your position and the project briefing. The balance of $2800 is due 2 months prior to the date of the expedition (by April 25, 2023).