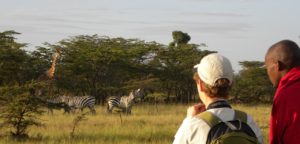 Kenya Wildlife Conservation Expeditions
August 6-19, 2023
January 7-20, 2024
Help save baby giraffes and other wildlife! Be a cost-share volunteer! Assist Maasai conservationists with wildlife monitoring and community-based conservation next to the famous Masai Mara in southwestern Kenya.
Participants actively assist guides and hosts who are well-trained members of Maasai Moran Conservation and Walking Safaris with a unique effort to sustain Maasai culture, preserve native grasslands and forests, and protect iconic African wildlife, especially baby giraffes. As a guest and volunteer, you will assist the Maasai with monitoring of Masai giraffe group composition, movements, photo ID-ing, and mother-infant behavior, and hike to see Nyakweri forest where elephants and other wildlife give birth and hide there young. As an international guest, your ideas and suggestions will improve guiding skills and eco-campsite management by Maasai conservationists from several local communities. The overall goal is for you to have a wonderful adventure while helping to improve local Maasai ecotourism enterprises.
Experience with wildlife monitoring, birding, environmental education, small business management, marketing, and ecotourism are all desirable, but what is needed most is enthusiasm for nature conservation, respect for other cultures, good general health and fitness, a humble and patient open attitude, and the desire to take in the great African outdoors, on foot.
Participants donate $3250 to Life Net Nature who manage funds for this Maasai wildlife conservation program. This donation covers your field costs during the Kenya Wildlife Conservation Expedition and contributes to sustaining families who steward a giraffe nursery conservancy. Once the team leaves Nairobi, your cost-share payment covers all meals, drivers and transportation, camping & park fees, Maasai hosting and guides, and two safaris: one through the Masai Mara National Reserve and one in the Mara Triangle Reserve.
Teams meet in Nairobi at Wildebeest Camp. Participants are responsible for their own travel to and from Nairobi and for all lodging and meals in Nairobi. A Maasai host/guide will meet the group on the morning of departure from Nairobi.  The group will return to Wildebeest Camp at the end of the expedition.
To apply to join an expedition, email Dr. Dusti Becker (dustizuni@yahoo.com or dustibecker@lifenetnature.org) a short cover letter briefly explaining your interest and skills (resume is optional). Dr. Becker will send you an application form. If you are invited to join a team, a deposit of $250 secures your position, and access to the project briefing. The balance of $3000 is due no later than 2 months prior to the date of the expedition.