Cloud Forest Bird Monitoring 
Reserva las Tangaras, Mindo Ecuador
December 4-17, 2022
Meets in Quito
Cost-share $1650
Includes: In-country transportation, meals, lodging, bird banding training, Mindo Christmas Bird Count, and Bellavista Reserve visit.
Kenya Wildlife Conservation Expedition  August 7-20, 2022
Meets in Nairobi
Cost-share $2650
Assist Maasai youth with monitoring giraffe, developing an ecotourism camp, and advocating for a conservancy.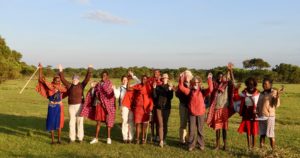 Includes: In-country transportation, two full-day safaris in the Maasai Mara, camping fees, meals, training in wildlife monitoring.
For Ecuador and Kenya expeditions, contact Dr. Dusti Becker: dustibecker@lifenetnature.org
Campaign for Yellowstone's Wolves  Summers. Public Education & Advocacy, Yellowstone National Park. Contact Dr. Anthony Povilitis – tpovilitis@lifenetnature.org.