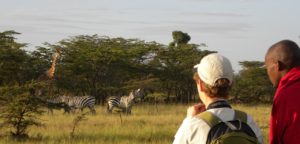 Kenya Wildlife Conservation Expedition
To be announced for 2019
Life Net Nature seeks 10-12 volunteers to assist with wildlife monitoring and community-based conservation in Kenya. Our project site is on the Siria Plateau next to the world famous Masai Mara.
Volunteers assist Maasai conservationists and Life Net researchers, Dr. Dusti Becker and Dr. Tony Povilitis on a unique effort to sustain Maasai culture, preserve native grasslands and forests, and protect iconic African wildlife.
Life Net teams will count mammals along transects and note birds associated with various habitats. As a volunteer you will assist with field research on Masai giraffe group composition, movements, photo IDs, and mother-infant behavior, and help document forest resources and corridors used by elephants and other wildlife.
Volunteers provide suggestions for improving guiding and camp management by Maasai youth, providing feedback on the walking safari experiences and on base camp conditions at Ol Konoi Camp. Volunteers should be patient with assisting local Maasai on their ecotourism enterprise and be willing to offer suggestions for developing a community-based conservancy.
Experience with birding, wildlife monitoring, environmental education, small business management, marketing, and ecotourism are all desirable, but enthusiasm for nature conservation, good general health and fitness, and desire to walk in the great African outdoors are the main qualifications we are looking for in volunteers.
Volunteers donate $2000 to Life Net Nature to cover their field costs during the Kenya Wildlife Conservation Expedition. Once the team leaves Nairobi, the cost-share donation covers all meals, drivers and transportation, camping & park fees, payments to guides in training, and two full-day safaris through the Masai Mara National Reserve and/or the Mara Triangle Reserve.
The team will meet in Nairobi at Wildebeest Camp. Volunteers are responsible for their own travel to and from Nairobi and for all lodging and meals in Nairobi. The expedition is a "working, educational" volunteer experience that may be used for university level projects related to conservation biology.
The team will be lead by Life Net Nature's Directors, Dr. Tony Povilitis & Dr. Dusti Becker, and by officers and members of the Maasai Morans Conservation and Walking Safaris.
To apply to join the expedition team, email Dr. Dusti Becker (dustizuni@yahoo.com) a short cover letter briefly explaining your interest and skills (resume is optional). If you are invited to join the team you will be asked to make a deposit donation of $250 to secure your position, and will receive the full project briefing.